David Booth is a member of the Perth New Church and for several years in the 1980s was the Secretary of the national New Church in Australia. The Western Australia Journal of Medicine recently published an interview with him from which we make a number of extracts, including the substantial reference to his connection and involvement with the New Church. (The original article is considerably long).
Meet Dr. David Booth, Preside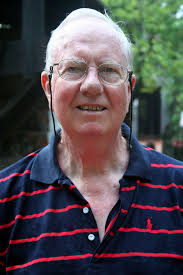 nt of Christian Health Aid Team. What an honour to interview such an obviously talented, knowledgeable, inspiring, and philanthropic man. Dr. David Booth is not only a well-renowned oral and maxillofacial (jaw) surgeon, teach, mentor and academic, he is also founder and President of Christian Health Aid Team (CHAT), a Perth-based not-for-profit organisation providing volunteer dental services to orphanages and children in Vietnam. Dr Booth was appointed Emeritus Surgeon in 2001 and was a State Finalist Senior Australian of the year in 2010. Dr Booth has had a full and complete clinical career and now admirably continues to support the development of better medical services in under developed countries. He graduated as a dentist in 1959 at the age of 22.
Dr Booth has been involved with the New Church, of which there is only  one in Perth (…there are in fact two (Editor)) He previously helped out as Leader. He also helped with the development of the New Church College, providing the ability to train ministers in Australia. Apparently, ministers had to train overseas prior to the formation of the New Church College. The New Church is based on the concept of loving God and loving each other. The group believes in 'a positive Christianity', one that looks for the best in one's self and others while remaining accountable to a higher standard and taking responsibility for one's life. The Christian Health Aid Team clearly demonstrates a commitment to values common to Christianity and the New Church.
Lastly, I asked Dr. Booth what motivates him. His answer is a true reflection of his passion and commitment to helping others…
"Helping others to learn, and passing on my experience and knowledge to others is important to me. Knowing that I am helping children who would otherwise not receive dental treatment is also important to me."