It was something that stunned me when I first came across it years ago that Mary may well have been just a teenager at the time she was called to be the vehicle through which God would become incarnate into this world. So young, and yet so accepting.
Her name 'Mary' has its Old Testament counterpart, 'Miriam', as in the sister of Moses. And 'Miriam' carries the idea of something won through anguish and struggle.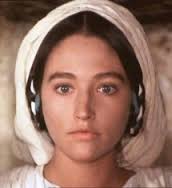 'Mary' in us is to come to know and value and to be deeply energized by the worth and value and importance of some truth, or truths, we have been resolutely striving to incorporate into our lives. Maybe there is something you have been consciously working on throughout this year. Like being more accepting of life's ups and downs instead of being more cranky and complaining about them.
From years ago I know someone who worked in a factory making Christmas crackers (most, of course, are made in China now). And the person I am referring to found this to be the most boring and repetitive job imaginable. How useless and dead end it all seemed to be. ("What am I doing here?")
That was until she stopped one day and started picturing in her mind the pleasure and joy of families sitting around Christmas tables snapping open the crackers and the fun and laughter this would give rise to. At that point there dawned a sense of the usefulness of her work. It actually redefined for her what she had previously understood about being useful.
As a consequence work, and her attitude to it, changed completely and became a joy.
'Mary' in her was to see the truth about usefulness in a new and much more living way. And it made it possible for the Lord to descend and become incarnate in this friend's attitudes to, and handling of, her (up till then) awfully hum-drum workaday world.
Ian Arnold