Text Luke 24. 28-29
"Then they drew near to the village where they were going, and He indicated that He would have gone further. But they held Him back, saying, "Stay with us, for the day is almost over and it is getting dark." And He went in to stay with them."
Doctrine Arcana Caelestia 904, 2877
The presence of the Lord brings freedom: the one follows the other. The more the Lord is present with a person, the more free the person becomes; that is to say, so far as an affection for good is in him, he acts in freedom. Such is the Lord's influence. For whatever is done from affection rather than from compulsion brings freedom of choice. And unless a person has freedom in everything he thinks and wills, the Lord could not possibly implant in anybody the freedom to make choices about anything. If a person is to be reformed he must decide and act as if it is from himself. And when he does so as if by himself then he is in freedom. Otherwise no change would ever be possible.
Each year we can listen to one or other of the gospel accounts of the resurrection, and if we are paying attention, we will always learn something new. The story is familiar of course, but we might suddenly find ourselves thinking, "Well, I never knew that before. I never realized Jesus did such a thing!" And somehow this brand-new thought takes over our mind so that everything else is largely forgotten or ignored.
Now, the reason for this kind of personal revelation is due to the Bible itself; there is so much in these stories that we could never take it all in, and so we grasp something different each year: something strikes us, depending on our particular need at that moment in our life. This is always the way it is. We either notice it, or it goes right over our head.
Something of this idea comes out in the story of the walk to Emmaus. Two of the Lord's disciples are walking back home, terribly depressed at the day's events. It is all over, all for nothing. Their friend and Master has been killed. They have seen this with their own eyes. And then, completely unrecognized, the risen Lord joins them on the road, and two become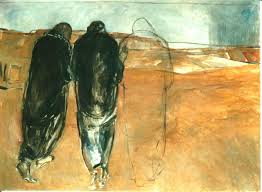 strangely three, but they are so busy trying to fathom out what has happened that Jesus remains a stranger to them. They are not even aware at the time that their hearts are burning within them as they engage in conversation with this fellow-traveller.
And then they come near to their home. Picture the situation for a moment. Their house is a little way off from the road. Luke says that Jesus made out that He was going to go further on. Perhaps He stayed on the main road as they began to turn off towards home. It's one of those moments … you must have had so many just like it in your own life … a moment, a fraction of time which is going to pass quickly, so that you only have a split-second in which to make up your mind. Imagine yourself as one of those two disciples, half-turned to go home and this stranger about to go on. What will you do? What might you say? … "Oh, so you are going on. Well, goodnight. It's been nice talking to you and having your company."
Can you remember times like that in your own life? Times when the chance was there to say something or do something but you let it pass and the moment of opportunity came and went? If they had said goodbye to the stranger at that moment, then of course the whole conversation would have fizzled out and been forgotten, not worth the recording. The Lord had in fact been explaining why everything that had happened had taken place as it did, but all this could only be understood in the light of the resurrection. Without that, it would make very little sense to them, and like much of the Bible for us, would make no impact at all.
But they made the most of that moment and said to the stranger, "Stay with us for the day is almost over and it is getting dark." And because of that decision, they were given a revelation of the risen Lord when – as He broke bread with them at the table – their eyes were opened and they knew Him.
Go back to the moment of hesitation on the road, that split-second when it seemed as though the unrecognized Jesus was about to go on. Put it in the context of that very day, the day of the Lord's resurrection and of the victory of life over death, of good over evil. A day like no other before or since for the whole human race, and yet Jesus merely walks and talks, joining His friends in their anxious debate. There was no flash of cosmic disturbance, no cataclysmic revelation, no blinding of the senses, just new light and some patient explanation among close friends.
So let us think for a moment of the presence of Jesus with those disciples. You see, when we begin to think more deeply about life and its purposes, about goodness and evil, and about our own choices and decision-making, then, in a way we cannot really understand, a mysterious presence joins us and comes alongside us. An inner light begins to direct and shape our thinking, bringing back to mind all we knew before and showing its relevance to our present situation. This is the meaning of that moment in the walk to Emmaus.
Let's then not limit the story of that walk to a moment back in human history but see in it the pattern of every person's mind when it is thinking quietly by itself. Those two disciples were walking away from Jerusalem at that moment; away from everybody, away from all the hearsay, rumours, guesswork and confusion. You will know just how difficult it is to think straight in such situations when everybody is saying something different, wavering from this view to that and expecting you to agree with one or other of their points of view. How good it is then to go for a walk in order to turn over and consider what your own heart needs to feel.
Along that lonely road you are now free to express your own ideas without pressures or interruptions. But this is also the moment when your thoughts can be gently guided from within, from some source that you cannot easily identify. The train of ideas begins to unfold and you feel absolutely free to accept them or reject them, because Jesus, you will have noticed, put no pressure on them at all. He didn't ask for an invitation to share their privacy. He was simply there, respecting their condition of mind. No crowd can ever make the right decisions, as the recent experiences in Jerusalem showed beyond any doubt. The individual person must have room, time, and clear air to think for himself or herself.
It is hard to face that sort of personal spiritual responsibility. We might want to refuse it … "Goodbye friend, and thank you." Instead of saying "Stay with us for the day is almost over and it is getting dark." Which could be put like this, "The night is always coming but not while You are with us."
Our lives are full of these moments of opportunity, most of which we seem to waste. Who knows what the right response of a split-second decision will bring! A verse from the Epistles suggests what may be happening behind the scenes: "Let brotherly love continue. Do not forget to entertain strangers for by doing so some have entertained angels unawares." (Hebrews 13.1-2)
But Luke's story of the walk to Emmaus is even more than this. It shows us that we may even entertain the Lord unawares. In every good action – which is in fact represented in the symbolic breaking of bread – the Lord is actually there. In every clear thought which bends our mind in the right direction, He is the guiding light. It is a tragedy then if we let these split-second moments pass by and never acknowledge the Lord sharing Himself with us but never once imposing on us. The decision will always be ours to make.
May Easter be the celebration of the risen Lord at a pivotal time in human history – as the victor over the tomb, over death and its darkness – but let it be even more a re-affirmation of His presence and power in your life today. The Lord has walked many times with each of us in the past and usually we have let Him pass on from us because we have been too blind, too wrapped up in our own thinking, perhaps too proud and foolish to acknowledge our need of Him. Be a disciple on the road to Emmaus every day of your life! Listen anew to the Lord and ask Him in, not just into your thoughts, but into your heart and your life.
Amen.
Sermon by Christopher Hasler