Jesus said to them, "I tell you the truth, it was not Moses who gave you the bread from heaven, but it is my Father who gives you the true bread from heaven. For the bread of God is he who comes down from heaven and gives life to the world." they said, "from now on give us this bread."
Then Jesus declared, "I am the bread of life. Anyone who comes to me will never go hungry, and anyone who believes in me will never be thirsty." (John 6:24-35)
"Blessing, and glory, and wisdom, and thanksgiving" means the divine spiritual things of the Lord. All acknowledgment and confession of the Lord in general encompasses these two things: that he is the divine love itself and he is the divine wisdom itself. For those who are in heaven and in the church, love and everything that has to do with it comes from him. It is the same with wisdom and everything that has to do with it. (Apocalypse Revealed #372)

Give thanks to the Lord, for he is good; his love endures forever. (Psalm 107:1)
Everyone has many things for which to give thanks. Expressions of gratitude are possible on all the planes of our life. Even some animals seem capable of feeling and showing gratitude.
Naturally-minded people may give thanks for things of a worldly nature, which they see as blessings. For instance David, in one of his psalms written after a victory over his enemies, said, "He is the God who avenges me. . . . Therefore I will praise you among the nations, O Lord; I will sing praises to your name" (Psalm 18:47, 49). And the self-centered Pharisee in his conceit thanked God that he was not like other people (Luke 18:11).
Spiritually-minded people may give thanks also, but they express a wholly different kind of gratitude than that which affects the worldly-minded. The possibility of giving thanks extends through all lifestyles, from the godless up to and including the highest angels, for we are told that they, too, give thanks to God. But through all the planes of life, from animals to angels, the nature of thanksgiving or gratitude changes. It is one thing with a worldly person, quite another with a spiritual person, and still another with angels. Every higher expression of gratitude is from a higher state of life, and continually embodies more unselfish thoughts and feelings, more heavenly states of life.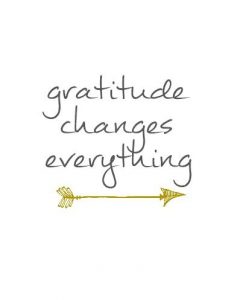 The good naturally-minded person is grateful for the good things of life. This person gives thanks to God for food and clothing, for health, and for worldly success. And this is good. It is far better to recognize our heavenly Father in this way than to attribute all our blessings to ourselves, without any thought of their real source. But spiritual thanksgiving is of an entirely different order. It indeed includes gratitude for all the blessings of this natural life, but it is not primarily for things.
Our text reads, "Give thanks to the Lord," not because he has given us material things, but because "he is good; his love endures forever." Spiritual gratitude is based on recognition of the goodness of God. And this means the acknowledgment that all goodness and truth are from the Lord, and consequently all our intelligence, wisdom, and happiness are also from the Lord. This is what is meant at the spiritual level by gratitude.
Gratitude of this sort lifts us out of the limitations of natural thinking about thankfulness. It includes a recognition that all our natural blessings are from the Lord; but it is not for these, nor even for the goodness and truth we have, that we give thanks. It is simply for the goodness and mercy of God. Thus spiritual gratitude is not limited to the good things, either natural or spiritual, that happen to come to us.
Instead it involves awareness of what is a central teaching of our church: that our heavenly Father is infinitely loving. And this is entirely apart from our personal experience regarding the natural blessings of life, being more inward than (or perhaps I should say "above") all ideas of self. Such gratitude is merely the humble acknowledgment that God is good.
But of what practical value is this? Or, as I sometimes used to say to a theological student who had just proclaimed some heavy theological maxim. "So what?" We all know what it is to be grateful for natural blessings. We know the happiness we get out of them. We know the anxieties and hardships that would be ours if we were denied them, and we are naturally thankful that they have been given to us. But, in practical terms, how can we give thanks because God is good?
This, surprisingly, involves something we have been taught from childhood, without realizing its lifelong significance. I doubt that any one of us would question the statement that God is good. We have probably heard that God is good all our lives. It has become an axiom of spiritual thought which we take for granted. Yet at the same time it is apt to be merely a matter of our thought, rather than a significant feature affecting our everyday life.
Gratitude for natural blessings seems to come naturally because such blessings are so definite, so tangible, apparently so real. Yet as we all know, eventually we all leave these things behind. And we should realize that although our spiritual gratitude should not be separated from our natural experience, it is not measured or determined by it. We can, in fact, make our natural blessings real and lasting by bringing the spiritual down into them. Spiritually, we give thanks to the Lord for the natural blessings of this life by learning to value them for their spiritual uses.
If, for instance, we are grateful to the Lord that we have a happy and comfortable home because it renders us more fully able to perform useful services for our community and nation, then we know something of what spiritual gratitude is. Thankfulness at this level gives the natural experiences of life a new interpretation and a new meaning. They become expressions of divine love, and thus openings for heavenly usefulness. We give natural thanks for prosperity when we are grateful for the personal happiness that such prosperity brings; but we thank the Lord spiritually when we use our prosperity to increase our usefulness to the world.
With this understanding of the nature of true gratitude, we may, if we will, go over all the good things of life: the things that we naturally call good. We may be grateful for each of them in turn in a spiritual way by recognizing their relation to the spiritual dimension of life, and prizing them on this account. In such a case we are gratefully aware that our making use of them is primarily a means of appreciating God's love; and secondarily that they can be means for making God's love operative in the world through us. When we do this, we are no longer thanking the Lord merely because he has given us these things for our enjoyment; we are now truly thanking him because he is good.
The gratitude of the spiritual person does not limit itself to the things that the natural person calls good; indeed, spiritual people do not in any special degree connect their conception of gratitude with the natural blessings of their life. Although it is a hard fact to learn, it is nevertheless true that the goodness of God is just as much present with us in our trials, temptations, and misfortunes as in our times of prosperity and ease. Such so-called "negative" things are also a means by which the Lord's mercy is revealed to us in many ways. This principle is stated clearly in Scripture. For instance, we read, "When you eat and are satisfied, be careful that you do not forget the Lord" (Deuteronomy 6:11-12).
Sometimes it takes an experience of dishonour, embarrassment, or need to bring it to our consciousness that the goodness and mercy of God are present through all the moments of our life. And sometimes the humbling or the sense of need may have to come to us through affliction. Just as sickness may serve the use of showing us that something is wrong with our body and needs attention, states of adversity may be needed to show us that something is wrong with our soul and needs attention.
By the same token, if we seek to find out why troubles come to us, not simply because they cause us unhappiness or bring us pain, but because we want to know the real nature of evil in order to be led out of it, we shall learn the lesson, and be able to give thanks to the Lord for his goodness. If we could even begin to realize what positive qualities of character come to us through the things we tend to count as our burdens, we would be amazed.
Therefore, whether we think of the pleasant or of the unpleasant things that come to us in life, we shall find that all of them – as to the eternal purposes that are within them – are expressions of God's goodness. Anything that comes to us may be made to contribute to our eternal welfare, if we will seek in it for spiritual good and spiritual truth. Instead of thinking or saying in our times of distress that God is treating us badly, we need to look at such times as opportunities to learn something that God is trying to tell us. And, paradoxically, as we do this we are at the same time giving spiritual thanks to the Lord.
To sum up: It is the Lord's intent that we live in constant recognition of his goodness and of his loving relation to us. But we are prone to acknowledge the concept of the goodness of God at about the same level that we acknowledge something like the existence of a planet called Jupiter, that is, as a teaching that doubtless is true, but very far off, very remote from our everyday life. But this is to miss the whole point. The teaching that there is a God, that he is love, and that he is always present with us, should affect everything we say or do. To trust implicitly that God's providence and wisdom are with us every moment, and therefore to be motivated continually to learn his commandments and live according to them, is spiritually to give thanks to the Lord because he is good.
People who express gratitude in this way are thankful right to the core of their being. This sort of gratitude rises above all the vicissitudes of our experiences on this earthly plane. Whatever our outward circumstances may be, spiritually we are "giving thanks to the Lord, for he is good; his love endures forever." Amen.
Prayer
Lord Jesus, we do go through many vicissitudes in this life, many ups and downs, many joys and sorrows. Yet we know and trust that you are with us through them all, and that under your providence, all of our experiences are building within us character of strong faith and deep compassion. We give thanks to you, O God, for your goodness, and for your eternal love, and we pray that it may be expressed in all our experiences and in all our actions. Amen.
A sermon by Rev. William (Bill) Woofenden