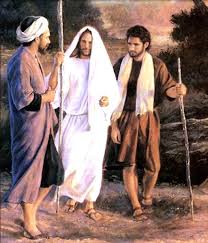 One of the most beloved of the post-Resurrection stories, retold in Luke's Gospel, Chapter 24, is the late afternoon walk to what was presumably their home village, Emmaus, of the two disciples of Jesus, the name of only one of whom we know for certain, Cleopas. For reasons spelt out for us they were heavy-hearted and disappointed at what had transpired in Jerusalem, where they had been, the previous 48 hours. All the appearances were that everything had gone wrong. An outcome they had anticipated hadn't eventuated. They had been hoping, it is aid, "that it was he who was going to redeem Israel" (Verse 21). In the end the Lord had not raised rebellion and freed Israel from the Romans as – clearly – they had expected.
But then someone, whom they supposed to be a stranger, fell into step alongside of them, joining them as they trudged homewards. And he asked them what was on their minds and what they had been talking about. Incredulous, they in turn asked him how he could not know. "Are you the only stranger in Jerusalem, and have you not known the things which happened there in these days?" (Verse 18)
This lovely story continues with the risen Lord – whom as yet they did not recognise – first of all challenging their grasp on things and then "beginning at Moses and the prophets, he expounded to them in all the Scriptures the things concerning himself." (Verse 27).
We will never know for sure how deeply the Lord took these two into the Scriptures. But here it is, plainly said, that in all the Scriptures going right back to "Moses" (the first five books of the Old Testament) there is a foreshadowing of the Lord's life and work in this world.
Having this in mind, I recently re-read the story of Abram, later Abraham, as we find it in Genesis Chapter 12 through to Chapter 25. This story begins with God's momentous and remarkable call to Abram. He is to leave all that has been familiar to him up to that point and travel into the unknown to become a great nation. Slowly but surely that all comes about.
So then, what is this about in relation to the Lord's life in this world?
Over the years I have become used to, and to like, the words used in the John Elliott translation of the Arcana Caelestia, "first awareness". When, as the Arcana enables us to do, we dig down into the story, the call of Abram is all about the Lord's "first awareness" as a boy, of the specialness that His life and work in the world was to have. And that's fascinating.
What is also fascinating, and even more so, is that as the story progresses, Abraham is given, repeatedly, assurances to help him hold on and to persevere in the face of challenges and disappointments. Check out Chapter 12 verse 7; Chapter 13 verses 14 and 15; Chapter 15 verses 7and 18; Chapter 17 verses 5 to 8, and then finally, Chapter 22 verse 7 which reads:
"…in blessing I will bless you, and in multiplying I will multiply your descendants as the stars of heaven and as the sand which is on the sea-shore, and your descendants shall possess the gate of their enemies."
Within these powerful words is a promise that will have been deeply embedded in the mind of the Lord. And over the years, into older childhood, his adolescence and adulthood, when push back, uncertainty, disappointment, questioning, doubt and even the severest of temptations threatened to overwhelm him, this promise, (more, these promises collectively) will have been a vital factor in helping him hold on. The words just quoted, Genesis 22.17 are not about earthly or physical things; they are about spiritual things and consequences. "Your seed," we read, "means spiritual people who, having good within them that springs from faith, are saved by the Lord's Divine Human. (See Arcana Caelestia or 'Heavenly Secrets' 2845). It was the salvation of the human race that the Lord single-handedly focused on and it was these promises of it which gave him hope.
There is not a lot of teaching given in the Writings about hope but what there is of it is pure gold. In times of temptations hope is vital. It was so with the Lord while on earth as he worked successfully through unending temptations, and it is with us. Hope is what "good spirits and angels" focus on and fan the embers of when it threatens to die.
Whilst it may be in varying degrees, all of us are vulnerable to feelings of hopelessness, either about ourselves, about the world or even about the Church. It is why we need to hold tenaciously to promises of the Lord's love and his purposes for us; of his wise government of our lives and over human affairs; of his mercy, of his care, of his tenderness and his listening ear. The thing is this, that when hope perishes, evil surges and has its day.
The Lord on earth never let go of hope for all that there must have been times when he came agonisingly close to doing so. "Tempted in all points as we are, yet he was without sin." (Hebrews 4.15) And though evil surged and threatened, it never had its day with him.
"Temptations involve feelings of doubt regarding the Lord's presence and mercy, and also regarding his salvation. The evil spirits who are present with a person at such times and who are the cause of the temptation do all they can to infuse a negative outlook, but good spirits and angels from the Lord in every way disperse that doubting attitude, all the time preserving a feeling of hope and in the end strengthening an affirmative outlook." (Arcana Caelestia or Heavenly Secrets 2338)
Ian A Arnold