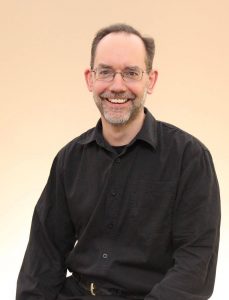 It is with some pleasure that I begin my message with the news that Rev. Todd Beiswenger has been appointed as the new Secretary of the Council of Ministers. I look forward to working alongside Todd. I'm sure he's up to the challenge: he, Jenn and Zach have taken life in Australia in their stride so far. Todd replaces Rev. Dick Keyworth, who has fulfilled that role for a number of years. Dick's retirement allows him more time to dedicate to his continued work in the Auckland Society, and his family commitments. I'd like to express my thanks to Dick, publicly, for his dedication to the work.
Occasionally, I hear of people asking, "What is the New Church in Australia for? How does it benefit us?" For me, the number one priority of the NCIA is that it exists to support our member societies in today's – and tomorrow's – challenging world. The NCIA provides resources such as this journal, The New Age, it administers the national website, and assists with running annual family camps. Not one meeting passes without some report regarding the state of our societies. It is also aware that in the near future some of our societies may struggle to meet their administrative needs, and the NCIA has measures in place that can be enacted at any time to keep societies' doors open. If you need help, where do you turn? Hopefully, you will turn to the New Church in Australia.
And speaking of societies, no doubt there will be a report on it later in this journal, but the Adelaide society has been going through some challenging times, with an out of control car demolishing part of their building earlier this year. I understand that repairs are under way, and they hope to be back to normal before Christmas. Our thoughts and prayers go with June Johnson, the committee and all the members of the Adelaide society as they cope with the aftermath of the accident.
What does charity look like?
In the last issue of The New Age, I asked where the church might hope to be in ten years. I challenged each society to develop a sense of useful purpose beyond its own walls. In essence, I wrote about our need to practise charity.
Of course, it's a concept all members of the New Church can agree upon, indeed, that principle is a cornerstone of our doctrine.
The conjunction of the Lord with man and the reciprocal conjunction of man with the Lord is effected by loving the neighbour as oneself and loving the Lord above all things. (Divine Providence, paragraph 94)
But what does charity look and feel like? How do we actually carry it out? To answer that question, I'd like to look at one specific activity, central to the life of our organisation: charity within the context of worship. It would easy to assume that the mere act of turning up is charity – it is, after all, centred upon the Lord and His Word – but there's more to it than that. There's the question of why I might turn up, and how that motivation might lead me to behave.
I don't want to get complicated and highly theological here, I want to arrive at some down to earth, practical suggestions that might illustrate the principles at work. And I'll begin with something my mother taught me: JOY. Yes, that's my mother's name, but it's also what she taught me. Jesus first, Yourself last, and Others in between. It's simple, easy to remember, and ought to provide an insight into the WHY, the WHAT, and the HOW of anything we might do, including "turning up" to church.
Here's how I see that working out for a worship leader. JOY helps me understand that the worship I lead is not for me. It's not about pushing my agenda, it's about leading people to the Word and to the Lord, and helping them to apply spiritual principles to their lives. It's not about persuading people to appreciate what I find meaningful, it's about beginning where they are and leading them towards heaven and the Lord. It's not about satisfying my needs, it's about theirs. It's not about my choice of music or activities with which I am familiar, but what speaks to and leads a congregation. Everything I do in leading worship ought to be focussed upon those others (ANY others) who may attend.
"Love consists in feeling the other's delight as delight within oneself. That is what it is to love. In contrast, to feel one's own delight in another, and not the other's delight within oneself, is not to love; for this is loving self." (Divine Love &Wisdom, paragraph 47)
And what about a congregation? Can I also practice charity in my attendance? Yes, of course, once I realise that attending worship is also not about me.
Yes, by all means, I should attend and support. I should recognise that whatever has been planned is the result of hours of work and study, carried out with me in mind! It would, therefore, be appropriate to respond with gratitude in whatever way I can: actively participating and attending to what is going on, expressing thanks verbally when given the opportunity.
Of course, no one gets it right all of the time, so if I do have a criticism, it would be entirely appropriate to offer it. But I should make such criticism constructive, and take the time and care to give appreciation for what I did enjoy, or found stimulating too.
Perhaps I can offer to help? After all, if worship is something I benefit from, it makes sense – even from a selfish perspective – to take practical steps to enable it to continue. But even MORE importantly, perhaps I can volunteer to serve others who may be present. The core of worship is about preferring the needs of others to my own:
The Lord cannot possibly be present with someone whose end in view is his own good. (Secrets of Heaven, paragraph 1316)
Would you attend (or volunteer at) a service when you expect to gain nothing from it yourself? I would suggest that doing so might offer a nice surprise!
How do I respond to something that doesn't meet my expectations? Worship is about the Lord and how I can apply His truths to my life. But truth is a doubled-edged sword. True worship is not about confirming my own thinking – what I already know, or what I find comfortable – it's about challenging those boundaries, loosing the chains of preconceived ideas. So, will you say, "Thank you for challenging me today! I needed to be set free!" or will you grumble because a hymn was unfamiliar?
I realise that these are challenging questions. I also realise that this is very much MY list, you may have other suggestions, which I'd be grateful to hear. My final suggestion recognises that. We all have a built-in sense of what charity actually looks like: the Lord Himself taught, "whatever you want men to do to you, do also to them, for this is the Law and the Prophets." (Matthew 7:12) However, our tendency is to believe that what I want is what you want, and when it comes down to the details of which hymns we like, or what we find most meaningful, or what helps us to learn, we can see that is not necessarily the case. The most important thing I can do for another is seek out what IS most needed, meaningful and instructive for someone else. It is in discovering, allowing, engaging and facilitating those needs that we find our truest expression of charity in our worship.
So, ask someone else, "What is most meaningful to you?" And then act on it.
David Moffat