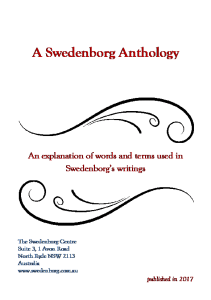 The Swedenborg Centre is delighted to let you know about this new Swedenborg Anthology which is now available either in print copy (printing is done on demand) or online as a pdf download here.
Size A5 56 pages Clear-sized print Strong cover with attractive design Further reading links given
The Anthology's main aim is to provide clear contemporary explanations of 219 terms which Swedenborg uses in his writings with also a brief outline of many of his core teachings.
Rather than clutter the explanations themselves with cross-references to Swedenborg's source material, these have been left to a loose-leaf insert at the end of the Anthology to list the entries with source references to one or two passages in Swedenborg's writings where that topic is spoken about. In the downloads and future printed copies, these will be stapled into the booklet.
One potential use of this Anthology would be to provide someone wanting to know about Swedenborg's spiritual approach with a wide range of helpful information.
Explanations have been deliberately kept to a few lines per entry, as each topic could be (and has elsewhere been) further explained at much greater length. Where it has been thought useful, paragraphs have been written with our own spiritual experience and practice in mind, and not merely as an intellectual definition. This is felt to be very important in today's world.
More printed copies at a cost of $10 are available from the Swedenborg Centre (ph (02) 9888 1066; email: info@swedenborg.com.au) Online copies are free of charge but we invite people to consider a $10 payment to cover the cost.
We hope you enjoy the potential uses of this modest work. Thank you for your continuing support of the Swedenborg Association of Australia and Swedenborg Centre.
Joe Vandermeer, Swedenborg Centre Director