ADELAIDE
Some members of the Adelaide Church attended a reunion of the Holden, Darwin, Day and Ireland families on April 2nd. Dianne Roberts, gt/gt granddaughter of William Holden was the coordinator. Jacob Pitman and William Holden arrived here in 1838 and started the first New Church in the southern hemisphere.
Roslyn Taylor enjoyed some time here in April and caught up with family and friends. Roslyn was a help for June who was recovering from surgery which thankfully was successful.
A memorial service for Michelle Wade, daughter of Heather Wade took place on 18th May. The eulogy was given by Heather herself with other readings by June. A special prayer was said for two little ones left without a mother.
Ken Johnson has a badly broken collar bone after a fall and Liz Welling also is recovering from a very bad fall. Looking forward to our New Church Day celebration on Sunday 18th for 19th.
Randall Rabone
BRISBANE
The Brisbane Society are right in the middle of arranging their move to their new premises in Dutton Park. Using their new premises already, they will be dedicating the Word during their service for New Church Day on Sunday June 18th. We wish them every blessing and success in their move and their future. The words and pictures here come from their newsletter "Breaking Bread" and are used at their request.
NEW CHURCH DAY
Our New Church Day Celebrations fall on June 18t.h this year. During this service, our Brisbane copy of the Word will be installed and thus along with our new chairs this will be our official opening day. Invite your friends and family to come and celebrate these special events with us. There is also a strong possibility that the national president for the New Church in Australia, David Moffatt, will be present to celebrate the opening of our new spiritual centre. If so, he will be sharing the new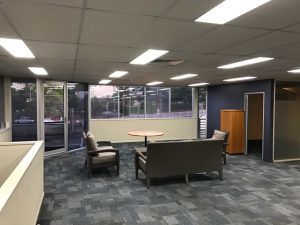 church day message with us.
On Thursday, the 13th of April, 2017, we took possession of our new spiritual home located at 1/24 Railway Terrace, Dutton Park. Our new community centre is so well situated for our community and the long-te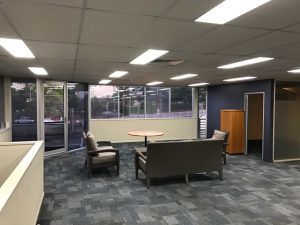 rm goal of making Brisbane people aware of the revelation from Heaven given to Emanuel Swedenborg. We have a train station across the road, which would often be used by University students as they pass our building on their way to the University of Queensland. The PA hospital is also across the road and directly in sight of the Centre.
One week later, Thursday the 20th, our container arrived with all our belongings that had been in storage for two years. After everything had been moved, we placed our attention on installing the Baptismal font. This proved to be a mammoth undertaking as the marble bowl that sits on top of the pedestal is estimated to weigh between 300 to 350 kg. When we did eventually get the entire font back together, we were so excited and relieved that we took the photograph above and sent it out to friends and members.
PERTH
Since our last report the ladies enjoyed a very happy weekend in a very comfortable house (Airbnb) at the seaside town of Rockingham south of Perth. Ably lead by Sarah Walker we engaged in a mini Logopraxis exercise using a section of Heaven and Hell.  This was a very useful introduction to this method of studying the Writings and we have now gone on to hold monthly meetings based on the readings from David Millar using the Arcana. This again is facilitated by Sarah. We are indebted to Sarah for her insights and leadership, and the time she puts into the sessions. Our weekend consisted also of several walks along the seafront, meals at cafes in the area and time to explore the area while enjoying each other's company.
The ladies have also begun meeting on a regular basis for lunch on the second Tuesday of each month.  We enjoy meeting together sharing a meal and chatting about our families and issues we encounter. Even when there are only two or three ladies available it is proving to be a useful activity, one which we hope to continue.
Plans are in hand now for our New Church Day celebrations. We will hold a service at the earlier time of 10 am, followed by a long table meal. This will be catered for by the ladies and held at our new meeting place (an environmental centre) in North Beach.
Ros and David Walker do a lovely job taking their grandchildren, Finn and Audrey Ralls for Sunday School lessons each. service day. The children are always so happy to be there, and their smiling faces and happy noises are refreshing for us.
We hold our monthly service and lunch each first Sunday of the month, taken by Reverend Trevor Moffat. Beginning in May we plan to hold an alternate service on each third Sunday, and we look forward to various members conducting these services. The first held on the third Sunday in May will be a healing service. We look forward to this new venture.
It was a pleasure to have the President of the New Church in Australasia at our Easter Day service. David and wife Pam were visiting Western Australia for a well-earned holiday and to spend time with family and friends. So although David was on holiday several people took the chance to speak with him on church matters.
Our good wishes go to all our friends and readers for happy and meaningful celebrations for June 19. May the Lord be with you and bless you as you celebrate His establishment of a New Church in the heavens and on earth.
 Joy Moffat
SYDNEY
Our tremendous news is that we have received the acceptance from Rev Howard Thompson to be our next Minister here in Sydney from around the middle of 2018. He will come with his wife Debra and their son Lance. Here is the information that was sent out to members and friends and some others –
The Committee of the Sydney Society of the New Church is delighted to announce that Rev. Howard Thompson has accepted an invitation to become our Minister when Rev Julian Duckworth retires toward the middle of 2018.
Howard is an American, and trained at the New Church Academy in Bryn Athyn following an early career in the commercial world. He is currently the Minister of the General Church Society in Colchester, UK.
Howard, h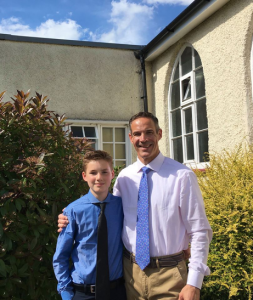 is wife Debra and their youngest son Lance visited Sydney at Easter, participated in many of our activities and saw a good deal of Sydney.  Debra and Lance will accompany Howard when he takes up his role here.  Lance will be attending high school.  Their older children Ben and Chelsea will remain in America.
Julian and Ruth have been a church team in Sydney for 26 years, with Ruth formally appointed as Church Officer in recent times.  We are happy that Debra, who has a background in arts administration, has accepted that position.
Sydney is an ever-growing city which has an ever-growing need of the teachings of the New Church, and offers great opportunities to the organised church to play its part in answering that need.  We are thankful that Howard and Debra will be continuing Julian and Ruth's service here.